With so many web hosting companies on the web today, i would say the competition has become so tight and many would take whatever measures to lure customers to their servers. So many providers offer affordable web hosting services that may go as low as cents per month but trust me, no all with offer you the services you want. Who wouldn't want to opt for cheap web hosting? Sometimes resources run out very fast and we find ourselves chipping in a few of bucks to get more resources for our website.
Just as they say, cheap things come with their own consequences. This isn't the case with the web hosting providers below because i am very certain they will offer you the best services for less. In case your web traffic hikes and you run out of resources, you can still upgrade your package which i don't think will still cost you that much. The cheap web hosting companies i have shared below are very reliable and you can trust their services. I have used most of them and i guarantee they will offer you more for less.
Best Affordable Web Hosting Providers
Please note that so many providers out there claim to provide affordable web hosting plans but fall short of resources. It's always recommended to host your website with an established brand that has a good reputation and be sure of reliability and guarantees such as up-time. You can look for such brands by comparing their respective web hosting reviews from several sites that host web hosting reviews.
1 – iPage – $1.99 / Month
When you think cheap, iPage is definitely the best place to begin from. They offer a 75% discount for first time customers that affords you web hosting at just $1.99 per month for the first year. Apparently all their plans come with unlimited disk space, scalable bandwidth, allow you to host unlimited domains plus so many other great features. iPage has great 24/7 support as well and besides, their servers hardly timeout hence, you are certain of 99% plus uptime guarantee. For WordPress users, you would definitely want to take advantage of their 1-click WordPress installer.
2 – A2 Hosting – $3.92 / Month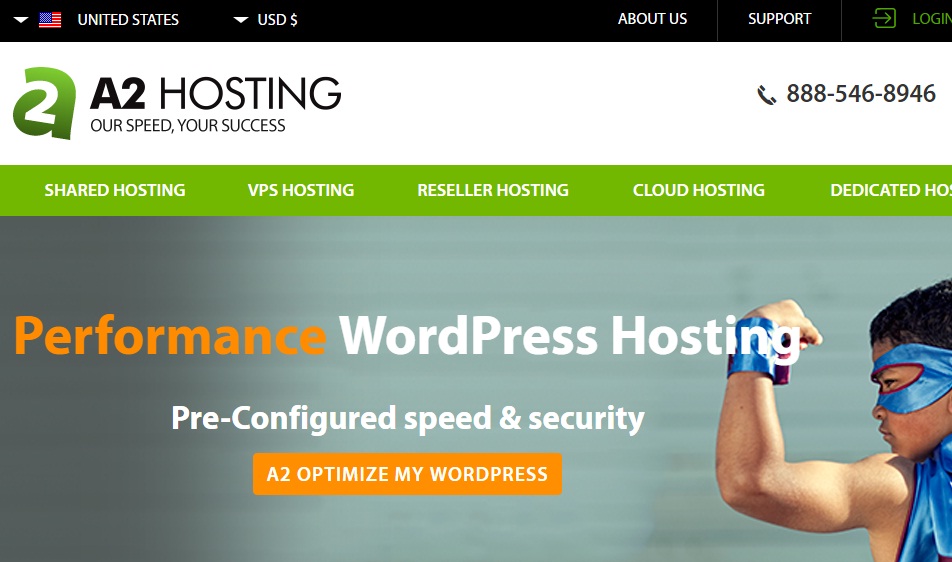 What would really hold you back from spending $3.92 a month to have your site hosted on one of the fastest servers in the web hosting industry today? Based on real reviews, A2 Hosting has taken the trend since 2016 and slots up among the best web hosting companies at the moment. Honestly, most of my websites are currently hosted on A2 Hosting's servers and besides, i always recommend them first to my readers and clients. Besides hosting your site on Solid State Drives (SSD), your are guaranteed of being hosted up to 20X faster web hosting servers, good support, anytime money back guarantee, 99.9% up time commitment plus more. For skrill users, A2 is definitely the best Skrill web hosting company at the moment.
3 – Hostgator – $3.95 / Month
Hostgator is undoubtedly one of the best affordable web hosting companies and still provides one of the cheapest web hosting services in the industry. Their standard shared hosting plan begins from $3.95 per month for the hatchling plan but restricts you to 100GB web space, WordPress hosting begins from $5.95 per month, Virtual Private Server (VPS) hosting from $9.98 per month and dedicated hosting from $76.56 per month. Besides their friendly prices, their customer care services are excellent and will always guarantee you immediate feedback whenever you need help. They also offer coupons that let you purchase web hosting packages for less hence, i recommend you always check with their website for the current coupons before making any purchase.
4 – SiteGround – $3.95 per month
SiteGround is very cost friendly and provides one of the best performances of a web server. They also stand among the most reputable web hosting companies in the world. Their shared web hosting package starts as low as $3.95 a month inclusive of a free Domain Name and come prepackaged with the best features any WordPress site needs. Emerging among the official WordPress hosting companies, SiteGround servers are 100% optimized for WordPress in terms of performance, security and speed. Two of their greater shared web hosting plans come with a free SSL for the first year, an opportunity you should definitely take advantage of. If you don't expect so much traffic for your website then i recommend you give SiteGround a shot.
5 – BlueHost – $3.95 / Month
Bluehost is not only one of the most reliable and reputable web hosting brands in the industry today. Bluehost offers one of the cheapest web hosting services occasionally that could go for as low as $2.95 a month depending on the promo they are running hence, i recommend you first check with them to see if they have any gigs running. Their standard shared hosting plans start as low as $3.95 / month, dedicated hosting from $74.99 per month, cloud hosting from $5.95 per month, optimized WordPress hosting from $12.49 per month and VPS hosting from $14.99 per month. Bluehost is a perfect place to begin to spark your online presence from.
Please note that most of the web hosting rates above are introductory / promotional rates which apply to only your first term of hosting. The hosting packages are renewable at normal rates so i recommend finding out the renewable rate before signing up for any package. All the companies above have cost-friendly renewable rates. I have personally digged deep and looked at their respective renewal rates hence, their services are definitely worth the price.
If you need more info about the web hosting brands above, feel free to drop me a comment below or rather an email and i should get back to you with appropriate feedback immediately.